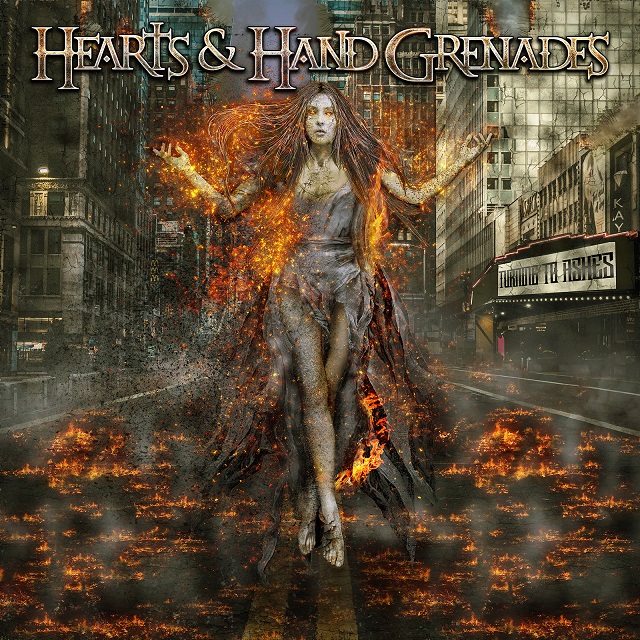 "Hearts & Hand Grenades is an explosive American hard rock group from Buffalo, NY fronted by Stephanie Wlosinski on lead vocals and bass guitar. The band was originally founded as a cover band in 2012 by guitarist Mike Bress. Mike (who also happens to be a seventh-degree black belt) taught martial arts at a dojo he owned, and Stephanie who happened to train there overheard he had a band, so she mentioned she played bass guitar. She immediately replaced the band's original bassist and shortly thereafter they added Tom Lafferty on drums, and Kenny Blesy on lead guitar. Within a month, the band began performing gigs and they eventually became one of upstate New York's premiere cover bands." – from the press release.
So if you like it hard and heavy – as heavy as say a band like Skew Siskin but with a more ferocious and modern sound then you'll most probably love this, the vocals are quite something and compliment the music well and opener 'Turning To Ashes' should be more than enough to keep you interested. Indeed it's the next rack 'For The Weakened' that turns the dial a little more – almost as if each songs is is a fist-aloft battle cry to the faithful just like the wonderful 'Adrenaline' that hits later.
Elsewhere when the pace drops and they give the songs a little more space to breathe like on 'Daggers' they prove that they are more than a one-trick pony, and the accomplished ballad 'Hide' further emphasises their abilities. If there's one fault with this debut its only it's brevity – 8 tracks doesn't quite seem like quite enough, though of course it's all relative and I for one would prefer 8 great tracks than a handful of gratuitous filler.

The most interesting pointer to another layer entirely hidden beneath the rock solid Hard Rocking bluster is in the languid Country verses and hard rocking Choruses of 'The In Crowd' which make a fun song and prove that the band isn't inclined to stick to a template. Sadly there's only one more track – the brooding, building rocker 'My Sickness' – another impressive cut.
very nice start to the year from a band with an excess of promise.
8/10
Hearts & Hand Grenades: Stephanie Wlosinski (lead vox, bass), Mike Bress (guitar, keyboard), Kenny Blesy (lead guitar), Tom Lafferty (drums)
Turning To Ashes will be released worldwide on January 8, 2021 via Eclipse Records.