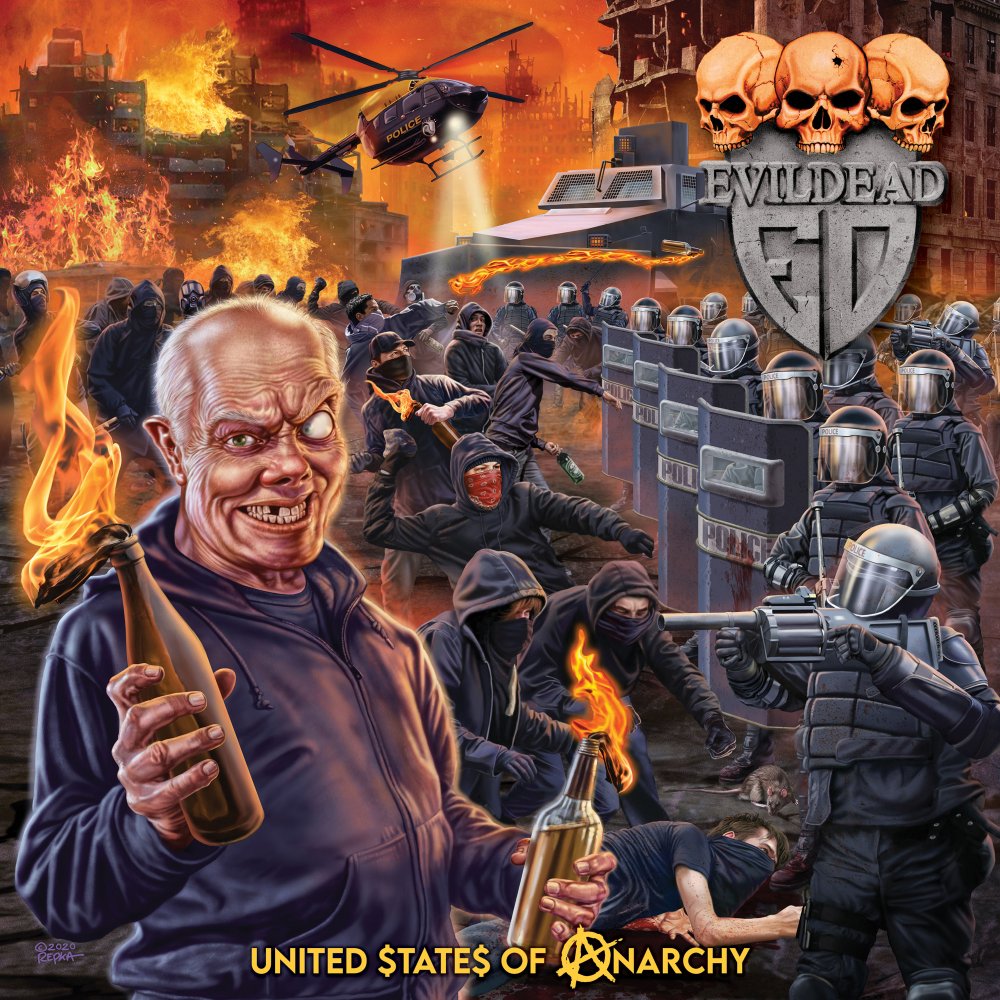 Evildead was formed in 1987 with the intention to create heavy music in the thrash metal vein. Their sound was unique; highlighting a blend of speed and thrash metal guitar riffs along with hyper drumming locked in with an over the top thundering bass with punk overtones, and lyrical themes that explored political, thought provoking social ideas; mixed with horror, and nuclear war themes. After disbanding in the 1990's, the California thrashers returned a little over 10 years ago after a demand was seen giving the band a second lease on life.
2020 finally sees a brand new album in the form of "United States Of Anarchy", a fitting title for the world and particularly their home country are living through. Their usual tongue in cheek humor splattered with a comical sense of sarcasm and political satire continues here, sitting among a backdrop of musical theatre in the form of some good old fashioned thrash metal.
There's not going to be anything revolutionary found here on Evildead's return to album recordings but that doesn't matter because it's still fun to listen to. It's rough and tumble type stuff but the band do it well. It's as raw as anything they have previously done and in keeping with tradition, their now infamous album covers which have previously been done by the legendary Ed Repka returns to give us another fantastic piece of artwork, something which lacks a little in today's album art at times.

Opening track "The Descending" is classic thrash metal and opens the door to Evildead in 2020 with it's catchy hooks and point driven metal. Vocalist Phil Flores spits out vocal lines in his well known signature snarl, his use of political vitriol done in comical fashion. "Word Of God" steps it up a notch going down a more death thrash sound to give it a bit of extra muscle in the aggression department, it's Evildead in modern times.
Of course the old school sound is much intact through out as seen in "Napoleon Complex", rollicking riffs driving it's main groove element. "Greenhouse" is a fun one to listen to with it's chock full of guitar parts and yet another slab of groove thrown in once again.
"No Difference" throws a curveball into the mix at the beginning with an interesting jazz intro before launching into  a frenzied attack. "Blasphemy Divine" steps on the gas pedal a little extra harder as the fast pace increases the intensity of the song, reminding us once again why we loved Evildead in the first place.
The final track "Seed Of Doubt" gives us a little extra meat and potatoes with it's full bodied musical prowess, complete with melodic passages and wonderful guitar harmonies. Oh this is Evildead in a nutshell, many years may have gone by since we last heard of their brand of gutteral thrash but it's good to have the lads back again and it still sounds as good as it ever did.
TRACKLIST
The Descending
Word Of God
Napoleon Complex
Greenhouse
Without A Cause
No Difference
Blasphemy Divine
A.O.P. / War Dance
Seed Of Doubt