ALBUM REVIEW: Eternal Idol – Renaissance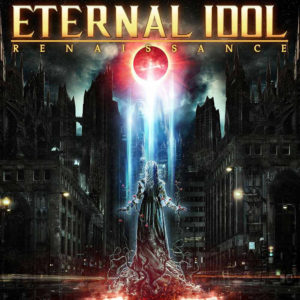 Four years ago singer Fabio Lione (Angra, Rhapsody Of Fire) created Eternal Idol along with guitarist Nick Savio,  female singer Giorgia Colleluori and drummer Camillo Colleluori to release 'The Unrevealed Secret'. Now we're back for album number two with new vocalist Claudia Layline and new drummer Enrico Fabris for their second 'Renaissance'.
From the very orchestral opener (checkout that introduction to Giorgia Colleluori) and the rockier 'Black Star' this is an album that takes that well trod symphonic rock path but mixes it up nicely without sounding self important and pompous – sure it's bombastic, from the vocals to the guitar of Nick Savio but it never loses sight of the importance of a good tune, if I might be so blunt.
Amongst my highlights are the brooding 'Without Fear' and the contrasting ballad 'Away From Heaven' which show the versatility of the band and the wonderful attention to detail in the compositions. This is a cool album and as a journey in places quite complex, with arrangements really are quite wonderful at times.
My favourite though is 'Lord Without Soul' a great rather simple track that gets to the bite quickly. Nice!