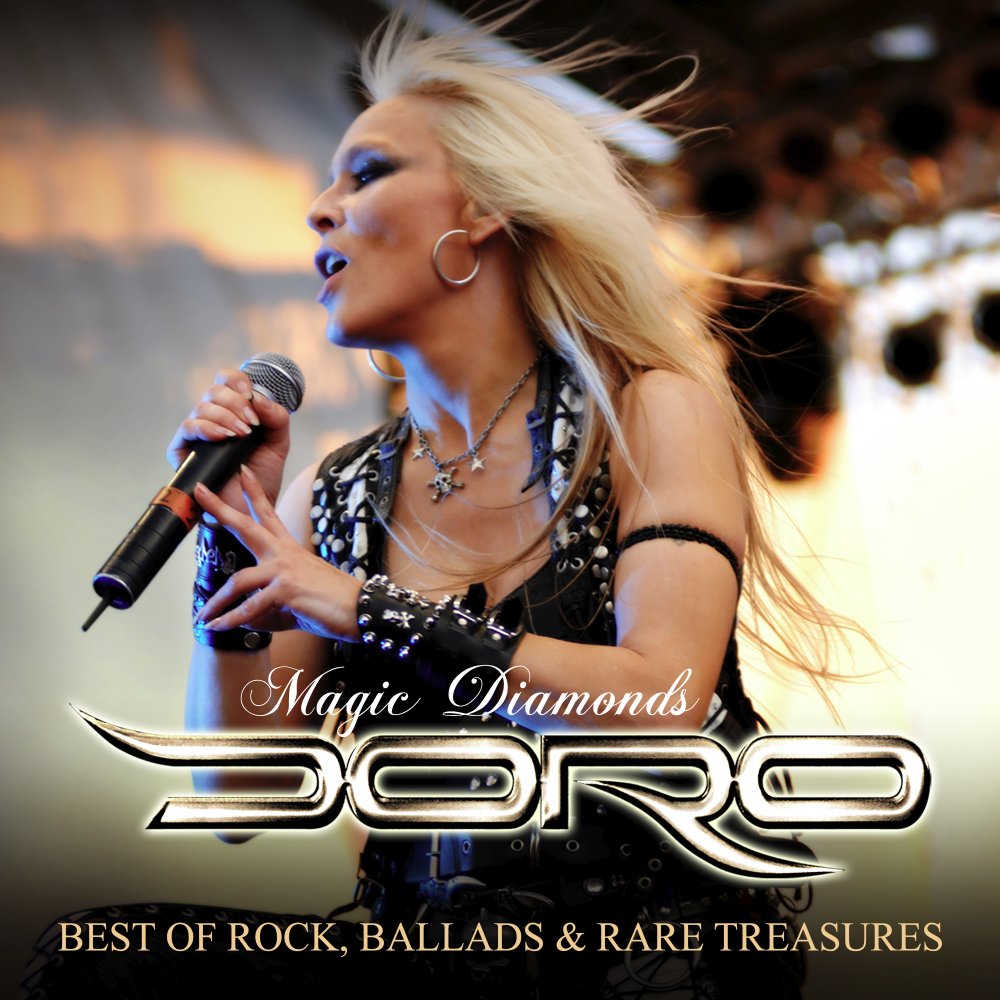 So after the mammoth Motörhead Box Set comes an almost half as weighty collection of tracks from Metal Queen Doro who was of course a good mate of Lemmy's over the years and in our recent interview recalls his words to her before Warlock's classic Donington debut.
As collections go this really is something special, and being personally chosen by Doro from her recently acquired catalogue (now that the label has released it to her) it seems extra special. As a result this is a rather weighty collection that tries to cover all bases in one hit. It works in a way in that it takes you through her  catalogue in some style but like any 'Best of' collection I'm sure fans will decry some omissions!
Broken down into three CDs and comprising 56 songs it's a lot of music to get through and as I told Doro last month I did it over the space of a day which is almost four hours of music. Not only that tough this one comes in a number of formats – both vinyl and CD – one version even coming in a special presentation box with an exclusive Doro perfume called 'True At Heart' (there is both a male and female version) as well as a 'Magic Diamonds' tube scarf.

Getting to the music we have effectively three sets – The Best of Rock which hits the spot exactly and If I'm honest it was always the Rockers that I preferred in Doro's catalogue. So you get classics like 'All We are' along with the fiery 'Burn It Up' and bakers like 'Descent' (featuring the wonderful Pete Steele), 'Kiss Me Like A Cobra', and a new live version of 'Raise Your Fist In The Air from the 'Forever Warriors Forever United' Tour. There's also a great 'Now Or Never (featuring Slash)' and a great orchestral version of 'I Rule The Ruins' as well as previously unreleased track 'Grab The Bull (Last Man Standing)' which is pretty cool.
The second CD – The Best Of Ballads opens with an orchestral take on 'Für Immer' (which is nice but I personally prefer the original) and adds all the usual suspects. There's even a new version of Doro's favourite ballad 'Love Me in Black' which isn't quite as satisfying as the original, making you wonder why artists like to rejig the classics fans have that attachment to when there's plenty of other material that potentially could be updated and appreciated more with a make-over. We also get two more live tracks from the 'Forever Warriors Forever United' Tour – 'Rare Diamond' and 'Make Time For Love' which actually just make me wish that we had a full concert from that tour instead. One of the highlights on the disc of course though is the classic 'Love Me Forever (Featuring Lemmy)' as well as live unplugged versions of 'Undying' and 'Constant Danger' an another unreleased track – a  NYC version of 'Prisoner Of Love'.
For fans it's probably disc three that hold most appeal here, collecting as it does a number of 'Rare Treasures' many of which are live and for me which is crowned by Doro's version of 'Egypt (The Chains Are On)' (which Ronnie loved) and 'Bad Blood' –  live version featuring Blaze Bayley. The 18 tracks on this disc really are exceptional.
Sure you may have some of this and may know the tracks well, but there's enough rarities on here to keep us all happy. If you're flush with cash this Christmas I suggest the 3-CD Boxes including the 'True At Heart' perfumes (his or hers) and a 'Magic Diamonds' tube scarf. Unsure what a tube scarf is? So was I so check out my interview with Doro where she explains it. As far as the music goes this is unambiguously great.
8.5