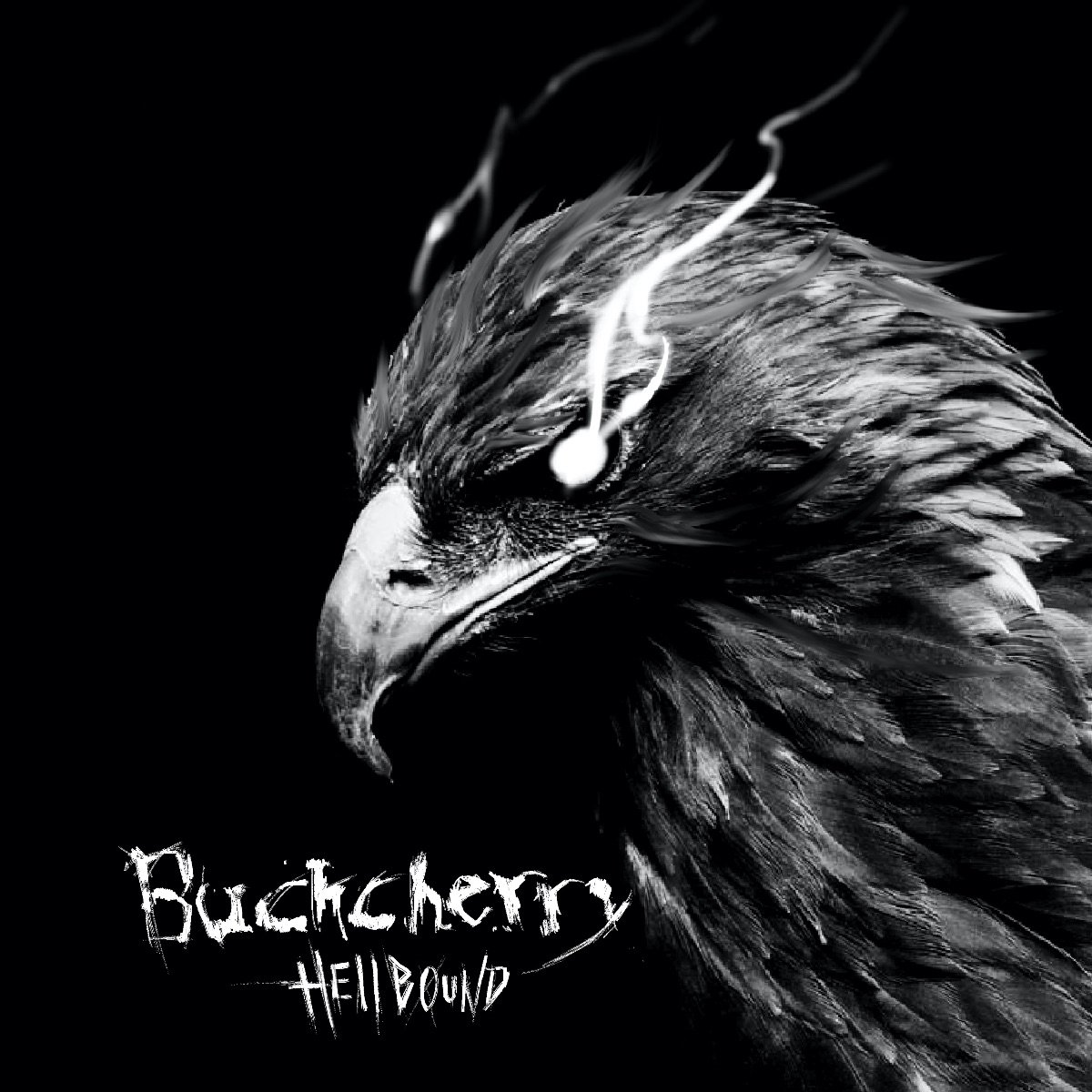 Well I've got my signed orange vinyl on the way how about you?
As someone who was there at the start over the years Buckcherry have released some stunning albums, countless more than memorable singles and if you've seen them live then you'll know that being out there on stage is what its all about. Whilst 2021 finds frontman Josh Todd (check out our latest interview about the album) may be the only remaining member sonically the remains in the business of  failing to slow down and here on 'Hellbound' spectacularly failing to compromise on quality and directness.
There's no better way to start, let's face it, than with '5-4-3-2-1' a song that announces loudly and proudly that Rock is back and more importantly so is Buckcherry with a cracking new album made to be played loud and  a tout that starts in June and runs almost to December! It's the sort of direct party rock hit with a dirty underside that the band are known for and sounds all the more awesome when you know that the single 'So Hott' is up next – a song in the vein of all of those sing along classics and one that gets more infectious the more you're exposed!

Indeed June 25th can't come soon enough as Hellbound keeps on pumping out the Rock and Roll outrageousness you should expect from these reprobates.  The 10-track record was produced by Marti Frederiksen, who previously produced 'Black Butterfly', and co-wrote one of their biggest hits 'Sorry' – here he contributes even more – co-writing half the album in Nashville with vocalist Josh Todd and guitarist Stevie D in a burst of condensed energy.  Sitting on this since November must have been so hard!
Title track 'Hellbound' sees Todd look back at what got him onto this crazy train in the first place with an AC/DC groove and wonderful breakdown to boot. The Aerosmith-flavoured 'Gun' (a favourite of mine) follows with a cast iron groove before teh funkier and grittier 'No More Lies' has you gasping for breath! This really is relentless!
The second half of the record (yes this does sit beautifully on vinyl) starts out with the angry, hard rocking 'Here I Come' just to make sure you're not flagging and that shot of adrenaline is followed by 'Junk' which flows off the back of a huge riff and a chorus to make you jump , before the beautifully contrasting smoky ballad 'No More Lies' underlines the fact that Buckcherry always pulls out a killer slower number without fail. It's a song that really catches the feel of the early albums and sports some killer lyrics to boot.
'The Way' the second ballad on the album is arguably even more catchy and sees Todd wringing out all the emotion he can squeeze from it – it's gonna rival some of the other slow moments over the years for many and Stevie pulls out the solo of the album just to crown it! And far too soon we're left with one – closing track 'Barricades' a mature mid-tempo rocker that mixes it up nicely even infusing a reggae feel in the verse before a dramatic chorus and wonderful breakdown. It's a song that has so much going on you'll love each moment and again the guitars just sizzle! It's often said I know, but this is a great way to close.
This is Buckcherry like you love them, loud, sleazy and ready to Rock you off your feet!
9/10
After cancelling over 100 shows in 2020 due to COVID, the band is planning extensive touring commencing in June and continuing through 2021 and 2022. Current confirmed dates are below.
Buckcherry Tour Dates
6/1 — Kansas City, MO —Uptown Theatre
6/2 — Wichita, KS — Cotillion
6/4 — Kearney, NE — Joe's Honkey Tonk
6/5 — Denver, CO — The Venue
6/6 — Colorado Springs, CO — Sunshine Studios
6/8 — Grand Junction, CO — Mesa Theatre
6/10 — Minot, ND — The Original Bar and Grill
6/11 — Scottsbluff, NE — Shots Bar and Grill
6/12 — Des Moines, IA — Val Air Ballroom
6/13 — St Louis, MO — Pops
6/15 — Cedar Park, TX — Haute Spot
6/16 — San Antonio, TX — Rock Box
6/18 — Corpus Christi, TX — Brewster's
6/19 — Ft Worth, TX — Rail Club
6/20 — Tyler, TX — Country River Club
6/25 — Texarkana, AR — Crossties
6/26 — Houston, TX — Outdoor Warehouse Live
6/28 — Ft Smith, AR — Temple Live
6/29 — Huntsville, AL — Shagnasty's
7/1 — Kansasville, WI — 1175
7/2 — Evansville, IN — KC's Marina Point
7/3 — Hannibal, MO — National Tom Sawyer Day
7/5 — Lancaster, NY — Lancaster Motorsports Park
7/7 — Pittsburgh, PA — Vinoski Winery
7/9 — Gettysburg, PA — Gettysburg Bike Week
7/10 — Streator, IL — Streator July 4 Fest
7/14 — Omaha, NE — Barnato Lounge
7/16 — Joplin, MO — Guitars
7/17 — Chickasaw, OK — Legends Event Park
7/19 — Memphis, TN — Lafayette's Music Room
7/20 — Baton Rouge, LA — Basin Music Hall
7/21 — Jay, OK — MAO Event Center
7/23 — Chesterfield, MI — Diesel
7/24 — Grover Hill, OH — Whetzel Motor Rally
7/25 — Cincinnati, OH —Riverfront Live
7/30 — Columbus, OH — King of Clubs
7/31 — Marietta, Oh — Adelphia Music Hall
8/1 — Indianapolis, IN — Hi Fi ANNEX
8/3 — Madison, WI — Majestic
8/5 — Dubuque, IA — Five Flags Event Center
8/10 — Columbia, MO — Blue Note
8/14 — Inwood, WV — Shiley Acres
8/15 — Knoxville, TN — Cotton Eye Joe's
8/17 — Hobart, IN — Hobart Theatre
8/19 — Ft Wayne, IN — Pieres
8/20 — Lombard, IL — Brauerhouse
8/21 — Escanaba, MI — UP State Fair – Grandstand
8/22 — Green Bay, WI — Epic Event Center
8/27 — Fountain, MN — Beaver Bottoms Saloon
8/28 — Walker, MN — Northern Lights Casino
8/31 — West Peoria, IL — Crusens
9/1 — Lexington, KY — Manchester Music Hall
9/3 — Nashville, TN — Brooklyn Bowl
9/4 — Charlotte, NC — Park Expo Center
9/5 — Chattanooga, TN — The Signal
9/7 — Ardmore, OK — Heritage Hall
9/10 — Flandreau, SD — Royal River City
9/12 — Flint, MI — Machine Shop
9/14 — Cleveland, OH — HOB
9/15 — Syracuse, NY — Sharkey's Event Center
9/17 — Hampton Beach, NH — Wally's
9/18 — Blackthorne, NY — Blackthorne Fest
9/24 — Santa Clarita, CA — Canyon Club
9/25 — Agoura Hills, CA — Canyon Club
9/26 — Montclair, CA — Canyon Club
9/28 — Tempe, AZ — Marquee
9/30 — Salt Lake City, UT — Royal
10/1 — Cheyenne, WY — Outlaw
10/2 — Billings, MT — Pub Station
10/4 — Seattle, WA — El Corazon
10/5 — Vancouver, BC — Rickshaw
10/7 — Calgary, AB — Eagle Event Center
10/8 — Dawson Creek, BC — Encana Event Center
10/9 — Edmonton, AB — Century Casino
10/11 — Red Deer, AB — Bo's Bar Stage
10/12 — Saskatoon, SK — Coors Event Center
10/14 — Regina, SK — Conexus Art Center
10/15 — Winnipeg, MB — Burton Cummings Theatre
10/18 — Thunder Bay, ON — NV Music Hall
10/19 — Sault Ste Marie, ON — SOO Blasters
10/21 — Sudbury, ON — The Grand
10/22 — London, ON — London Music Hall
10/23 — Ottawa, ON — Barrymore's
10/25 — Halifax, NS — Marquee
10/26 — Moncton, NB — Tide and Boar
10/27 — Moncton, NB — Tide and Boar
10/30 — Hampton Beach, NH — Wally's
10/31 — Portland, ME — Aura
11/2 — New Bedford, MA — Vault at Greasy Luck
11/4 — Norwalk, CT — Wall Street Theater
11/5 — Sayreville, NJ — Starland Ballroom
11/6 — Wantagh, NY — Mulcahy's
11/8 — Baltimore, MD — The Recher
11/9 — Harrisburg, PA — Club XL
11/10 — Jacksonville, NC — Hooligans