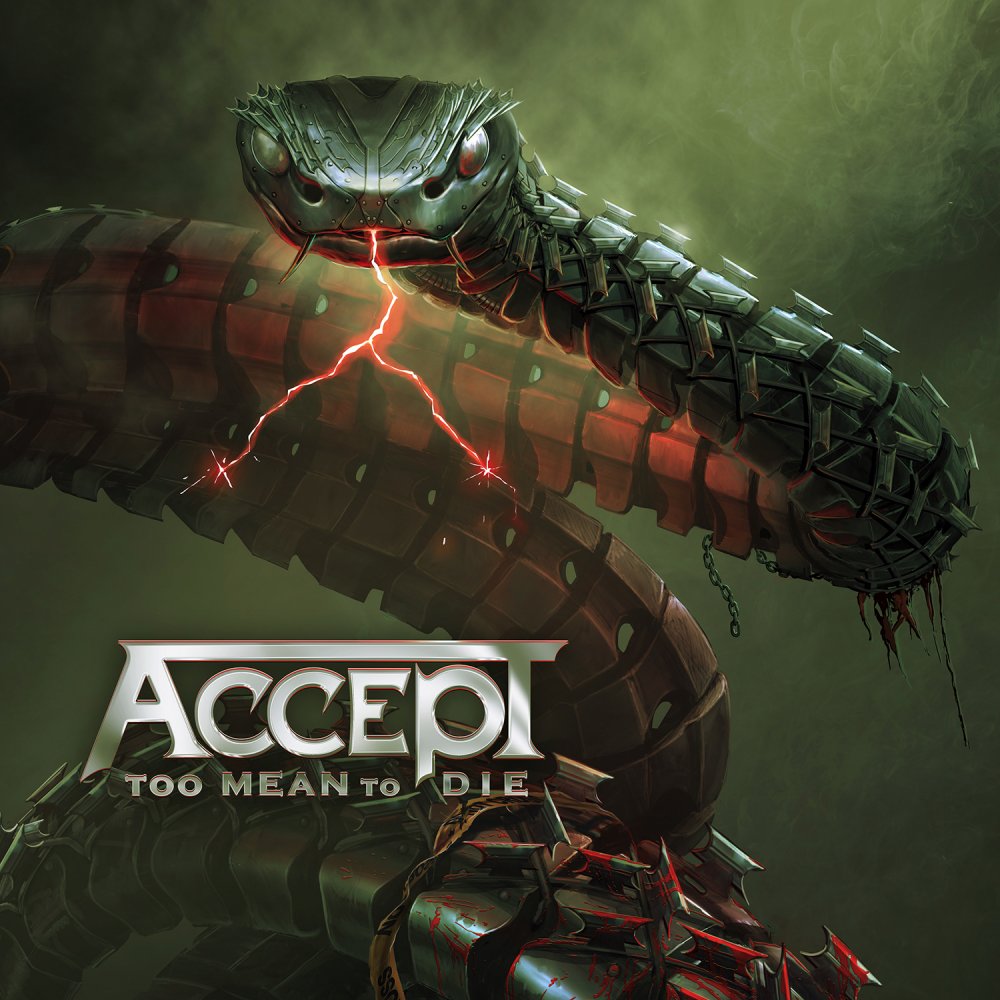 You've got your Baaaaalls  to the waaaall maaaan!
That's one epic, hymn of life, headbanging chorus of rockers n' travelers!
And you will hear it, louder than before, as you wait for another german invasion, through a world tour, after corona, to celebrate the victory of those who are alive and rockin'!

"Too Mean To Die" is the captivating new single and new album of the 80's living legends of metal, Accept!
The song is already out, as to get you ready for what's coming after….and what's that? A jaw-dropping, raw, scratching melody fire guitars, screaming songs……
On January 29th, you will hear the loudness of the heart of a lion, after their 2017 Chaos, the dudes are back to sing it, in your face, as Wolf takes care of the lead guitars in what started with Udo and other members who no longer are part of the Embassy of Deutch wilderness.
Now we have another rhythm guitar player added to the Accept ensemble, as to oppose the modernist view of life through virtuality and have you get the real pleasure outta metal, which is a CD, then your shirt on, then the ticket in your hand and finally the sacrifice of headbanging till it hurts.
Lots of you might be skeptic on how a new album might come to your ears in 2021, but in each song of this new effort you can hear Hoffmann's signature melody that assures you: "it is worthy!",  "they stick move you like no other European metal crew", "Hail to you, midnight movers"!
The ssssssnake on the album cover invites you to blast your speakers as loud as the mid-winter deserves to have, a snow-shaking earthquake of exploding decibels that will buuuuurn your soul and it's hunger for the restless that can't live without the metal doses in their blood !
Who cares that it's their fifth decade, who cares about the age, changes, for as long as their tempo is, at times even faster than when their "Metal Heart" was the Russian Roulette of choruses of brotherhood and fire-blood women !
"No one's Master, No one's Slave" is more than a sweet reminder of Deep Purple's 1990 album, it's a protest towards those who think that control your life, while the speed of the drums will give you the real feeling of pride, against whoever who tries to break you.
Megadeth and Saxon producer Sneap is brought in, to add the ingredient that will make it one landmark album, not only of 2021, but an album that will enter the house of classics very soon.
In a time where the world is in pain and the future fails to look as bright as the sunny afternoons of when you were at a concert or open air festival, rockin' hard, Accept comes to you with their 16th album, giving you the feeling that it was planned to be released in the midst of confusion, to make you scream as you have it in your hands "Let it roooooaaar" !
"Sucks To Be You" is smartly related to what the Holy Books predicted about the big deceiver, before the real Messiah will come to save the Earth.
"Symphony of Pain" will get you in the circle of lovers of Hoffmann's speed riffs that breaks the chains of your loneliness, through the rhapsody in the lyrics that you can never ever forget to scream loud "Only the music will set me free' !
We hear many bands that don't have the beauty one wants to have, as one pours the soul into a collection of what is expected to be the escapade. Not in this album. Every wildo needs his time alone, needs to remember the years gone by, the lost loves, the battles, the scars that become bearable through rock n'roll…… and the hope gives no space for disturbing thoughts, only the matters of the heart, as you sing "The Best Is Yet To Come".
But after the ballad you gotta face reality, that consciousness that those who run the show don't have, but no one is immortal and the Devil is the charmy one only in movies, nowhere else…… the heroic choir walks with the ancient question "How Do We Sleep?", as you can't help but watch the world going to Hell, unless…… well, unless your heart is wilder than  a warrior's last effort.
This is directed to the younger generations, to those who have no clue on what it means to feel something so strong that you will dedicate your life to it, no matter what the end might be. Every sacrifice is worthy if your light is the Truth !
"Not My Problem" maybe however you want it to be, as without understanding it, you're headed towards the end of an album that will be the highlight of your upcoming participation at a future concert of Accept.
"Samson and Delilah", again the Holy Books are part of this album through a title that was made into a movie, into a fairytale and into songs, one of them having what you're listening to right now, a Middle-East guitar flavor, as an appreciation  for what women do for men, through their caresses that, diabolic or not, help make the world a better place, a limitless sea of sins, lust-driven minds, instrumental-loving souls, not to forget that in the end, even though there's no end, only fading guitar, in the end it's about Rock N' Roll, Baby!
9/10
TRACKLIST
Zombie Apocalypse
Too Mean To Die
Overnight Sensation
No Ones Master
The Undertaker
Sucks To Be You
Symphony Of Pain
The Best Is Yet To Come
How Do We Sleep
Not My Problem
Samson And Delilah