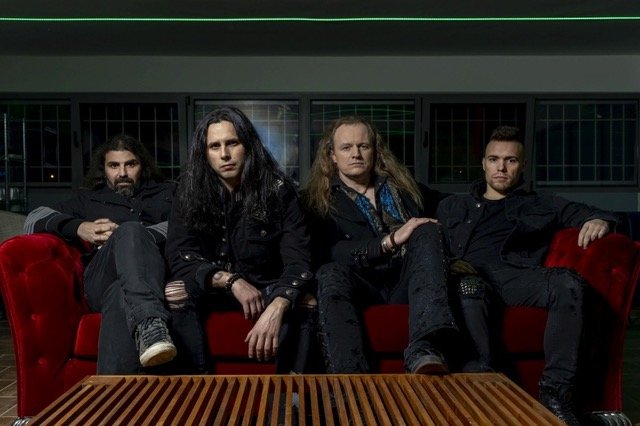 May 2020 saw Greek power metal icons FIREWIND unleash their latest studio album, the self titled Firewind.
While the band was forced to stay at home, due to the pandemic, they kept their creative spirit high and are now happy to present a new lyric video for the powerful and intense song "Devour" which also incorporates band performance scenes of all members.

Gus G. states: "Devour" was the first song I co-wrote with our new singer, Herbie Langhans. After hearing his vocal melodies, it was pretty obvious to me that he was the right man for the job, as this sounded 100% Firewind and features all the elements that the band is known for – melody, heavy attitude, catchy hooks, shredding solos, it's all there. Lyrically the song is about the endless pursuit of mankind for social status, wealth and getting caught up in the rat race."
The album "Firewind" is available here: https://fanlink.to/Firewind_Firewind
---
Classic hard rock lovers had to wait quite a bit, but the day is finally here: "Locked & Loaded", the new album by the band of guitarist and mastermind Alex Beyrodt, is out now (available as Digipak and colored Vinyl).
If you ask the fans of German hard rock act VOODOO CIRCLE about the most impressive line-up in the band's history, they will vote almost unanimously for the one that recorded the second album Broken Heart Syndrome (2011). At that time, band mastermind, guitarist and main songwriter Alex Beyrodt was supported by three excellent musicians, namely vocalist David Readman (Pink Cream 69), bassist Mat Sinner (Primal Fear, Sinner) and drummer Markus Kullman (Glenn Hughes, among others). So it comes as no surprise that Beyrodt is proud and happy to be able to present the return of that outstanding team on Voodoo Circle's latest release, Locked & Loaded. "This constellation presents Voodoo Circle at its strongest, especially since the new material is practically tailored to our classic line-up," the exceptional guitarist explains.
---
Sensational Swedish 8-piece power metal band BROTHERS OF METAL are back with a new music video, for "Chain Breaker", a song from their latest chart-breaking studio album Emblas Saga.
"Mighty Defenders of Valhalla! The music video for our song 'Chain Breaker' is out now!
On the day of Ragnarök, Fenrir will break his chains, Gleipner and join the giants in their battle against the gods", the band comments.
The video was directed by Jonas Helmersson & Sara Gustavsson.
---
As everybody knows today, the "Fistful Of Fire" album release in 2020 from BONFIRE was ill-fated by that worldwide Covid-19 pandemic – store had closed short after the release and the tour had to be postponed and even cancelled in the end. It's a fact, that the band did not play one single show with their new album to that very day.
However the band from Ingolstadt is trying to looking forward. New plans arouse for an upcoming project. It was summer 2020 when the band again hit the Flatliners Recording Studios to start recording the new longplayer "Roots", which will be released February 26th. It's a magnificent "almost unplugged"album with 24 tracks recorded completely over again and interpreted in new ways. It includes very young ballads like "When An Old Man Cries" and old evergreens like "You Make Me Feel", contains old rock hits like "Ready 4 Reaction" and "American Nights" but also arising rock hymns like "The Devil Made Me Do It", so every fan of this band will find something on this one. On top of that in features 5 brandnew songs that have been created while a crowdfunding campaign as remittance works for fans.
Today BONFIRE released a brand new single called "Love Don't Lie", a song that has been written 2008 for the "The Räuber", which has been a cooperation between the Theater Ingolstadt and the band – it is their most successful theater piece coop, with 3 seasons, 55 sold-out shows and 50 thousand spectators. The new version of the song, beautifully arranged, comes as a really lovely duet with Alexx Stahl and Lydia Panè, wife of guitarist Frank Panè.
---
All systems activated… – "A Virtual World" is paving it's way into our world. Dedicated and sophisticated guitars team up with the keyboard's vibrating sequences and pulsating beats of the drums – only outmatched by the powerful and angelic voice of Erica Ohlsson.
This is the new title track of the Metalite album "A Virtual World" which is coming out 26th March, 2021.
The stunning video for the new track is available now
The update for modern Power and Melodic Metal will be coming sooner as expected – the Swedish Power Metal quintet METALITE returns to the metal dancefloor. Not even 1,5 years after they returned with their new singer Erica Ohlsson, who brought in a massive amount of energy and musicianship to increase the impact for the new heroes of Modern Metal – trendsetting, epic and of the highest quality. Influenced by the concept of bands like Within Temptation, Amaranthe and Delain but at the same time the band from Stockholm reinvents classic Melodic Metal – unleashing a storm of power, monumentality and zeitgeist that you cannot escape.
The album is available for pre-order: https://afm.fanlink.to/MetaliteAVirtualWorld
---
After the last album "Rise Of The Dragon Empire" Bloodbound raise the stakes even higher this time – "Creatures Of The Dark Realm" is coming on 28th May and sets out to outshine their predecessors.
BLOODBOUND returns today with a musical highlight for every power metal fan – "When Fate Is Calling" comes as a powerful and majestic song, that almost theatrical bonds its listeners and takes them into a modern power metal world that has been created very precisely and with ultimate artistic perfection.
The album "Creatures Of The Dark Realm" is available for pre-order now
---
Finnish metal shooting stars ARION continue to deliver: After lauching their "Bloodline" single (which features a guest appaearance by Battle Beats vocalist Noora Louhimo) in December, the band now follows up with their new single/video "Out Of My Life".
It's the second single preceding ARION's upcoming album "Vultures Die Alone", which will be released on April 9th.
---
MOTORJESUS are playing a high-octane mixture of classic heavy metal and dirty hard rock. The band is pretty active in the German live scene since the early 2000s. They already played numerous tours with bands such as Motörhead, Anthrax, Prong and many more. They also played lots of live festivals like the famous German Summer Breeze Festival or the Rock Hard Festival.
Their last studio album "Race to Resurrection" hit the German Album Charts at #42 which was their highest position in Germany's Media Control Charts so far. For that album they also played numerous shows, a headliner tour and a support tour with the Swedish rock act Mustasch in 2019. After that they released their first live album "Live Resurrection" in 2020.
Now the German Heavy-Rocker unleash their impressive first single "Dead Rising" including a new video clip. The song is taken from their upcoming album "Hellbreaker", which is going to be released on 09th April 2021.